The most promising product – Nexgard has its own vitality and valor when it comes to deflecting the risk of fleas and ticks from your dog. These blood-sucking creatures, especially active during the warmer months, bring with them a gamut of diseases that not only deteriorate your pet's health but also the authenticity of your parenthood. From infesting your pet with flea infestations, skin rashes, irritation, flea allergy dermatitis, tapeworm infection to the most critical diseases like anemia, fleas are responsible to disturb the life of your dog. But, to protect your furry pal from the harmful consequences of these illnesses, the incredible animal medical science brings the Nexgard – a wonderful flea and tick treatment.
Loaded with multiple benefits, Nexgard has recently emerged as a highly effective treatment in the industry. It is the first-ever oral chew for treating fleas and ticks. The tasty chewable is a monthly treatment given to destroy fleas and ticks on dogs. Nexgard not only restricts itself to eliminating fleas and ticks but also provides a wider advantage of controlling future flea and tick infestations when given regularly without any gaps. Moreover, the obvious advantage of Nexgard is it is a chewable treatment, which makes it readily accepted by dogs. The softness and beef-flavor make the chew highly palatable and almost all dogs take it as a treat.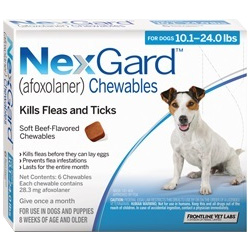 Buy Nexgard at Lowest Price | Free Shipping!
Well, with these major advantages, let us further decipher the working mechanism of this oral treatment that sets it apart.
How Does Nexgard Work?
Nexgard is made of a potent ingredient – Afoxolaner. This is a new component that has entered into the animal health industry and has not been used yet in any other flea and tick treatments. Once the treatment is taken, the ingredient enters the bloodstream without penetrating to the surrounding tissues and is ready to attack fleas and ticks once they sip in the ingredient. As Afoxolaner belongs to the family of isoxazoline, it is highly effective against numerous external veterinary parasites.
This classic pesticide has a broad spectrum of insecticidal and acaricidal activity. It inhibits insects by binding to acarine ligand-gated chloride channels in nerve and muscle cells, which further blocks pre- and post-synaptic transfer of chloride ions across cell membranes. This prolonged exposure to Afoxolaner leads to an uncontrolled activity of the central nervous system of these insects and acarines, eventually leading to their death. The selective toxicity of afoxolaner between insects, acarines, and mammals may be inferred by the differential sensitivity of the insects and acarine' GABA receptors versus mammalian GABA receptors. Thus, the substantiate facts state that as the nervous system is different in mammals and insects, the incredible mechanism of the active ingredient just attack the fleas and ticks, and therefore it is completely safe for dogs.
Effectiveness Of This New Chemical Ingredient – Afoxolaner
For its high efficacy and safety measurements, the product has undergone vigorous and extensive testing.
Scientists have conducted a 90-day field study, which was carried out in households with existing flea infestations of differing severity. It was concluded that the effectiveness of Nexgard against fleas on Days 30, 60 and 90 resulted into 98.0%, 99.7%, and 99.9%, respectively.
Additionally, the data from the well-controlled laboratory studies demonstrated 97% effectiveness against fleas and 92.3% against ticks.
Subsequently, the collective data from the studies – both field and laboratory state that Nexgard removes fleas before they lay eggs. This helps in effectively controlling future flea infestations after the start of treatment and also eliminates existing flea infestations.
Critical Point to Know about Nexgard
Pet parents should be well acquainted with the fact that Nexgard is only designed for dogs. Therefore, it should not be given to cats. Due to different anatomy, cats may succumb to fatal consequences.
Quality and Authenticity
A strong aspect of Nexgard is – it comes from the house of Merial, the same company that offers Frontline Plus – the most popular flea and tick spot-on. Thus, the authenticity of the product increases doubly.
Safety – How Safe Is Nexgard for Dogs?
When it comes to safety, various studies showed that in a well-controlled field testing there was zero possibility of clinically-relevant effects related to the treatment on physical examination, body weight, food consumption or organ weights. However, few incidences of vomiting were reported, which showed that the signs subsided eventually.
Moreover, in a well-controlled field study, Nexgard was also used with other treatments such as vaccines, antibiotics, anthelmintics, and steroids as well as anesthetics to see the proximity of its reactivity with other ingredients. It was observed that no adverse reactions were observed from the concurrent use of Nexgard with other treatments. Thus, it is totally safe to use Nexgard in conjunction with other treatments.
However, recent data from American drug society warns that this flea and tick treatment may trigger neurological issues including seizures, muscle tremors, and ataxia in some dogs with a medical history. Therefore, though Nexgard is considered safe and effective for use in dogs, the government medical community recommends pet owners to consult a vet for the medical history of their pets before the use of this product as a precautionary measure.